Vietnamese music programme appeals to youth
A new TV programme on Vietnamese music airing on HCM City Television (HTV) has attracted many young viewers in the city and southern provinces.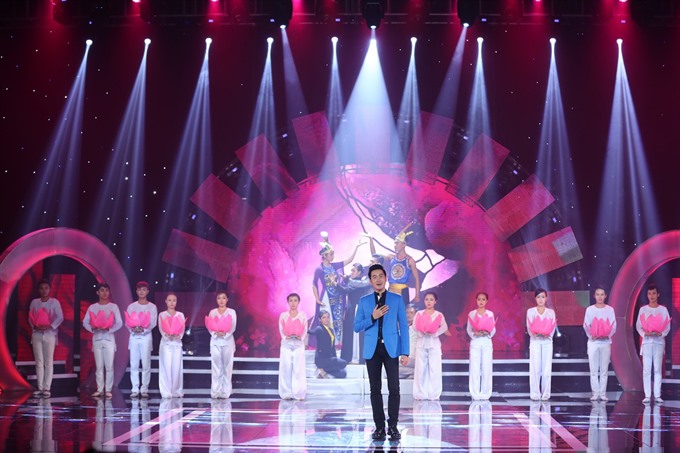 Âm Nhạc Tỏa Sáng ( The Beauty of Music), a new TV programme broadcast on HCM City Television (HTV), features new songs in contemporary folk and pop by Vietnamese composers. Photo KMedia
Âm Nhạc Tỏa Sáng (The Beauty of Music) features new contemporary folk and pop songs by both veteran and young composers.  
Songs in praise of the country, its people and soldiers are featured.
Performed monthly at Bến Thành Theatre, the programme attracted more than 100,000 viewers in April, many of them are teenagers who often prefer Korean and American music. 
Through the programme, organised by the HCM City Music Association in co-operation with its partner, Performance Organisation Centre, many poor people in remote areas now have access to entertainment.  
"Young composers, particularly students from music schools, are encouraged to create songs based on folk tunes and introduce their new works at our show," said musician Nguyễn Quang Vinh, member of the Việt Nam Musicians Association and head of the programme's organising board.  
Vinh said that veteran musicians such as Trần Long Ẩn, Nguyễn Ngọc Thiện, Tôn Thất Lập and Vy Nhật Tảo will select the best songs and offer guidance to the singers during their performance.  
"By composing, singing and listening to Vietnamese songs, young generations can improve their love and knowledge about the country, traditional culture and lifestyle," said singer and songwriter Nguyễn Phi Hùng of HCM City, who often performs in the programme.  
Although Hùng's music is dance, he found his source of inspiration by singing folk works such as Tiếng Hát Từ Lòng Đất (Singing from the Land) by Phạm Minh Tuấn and Nhớ Các Anh (Missing You) by Thế Hiển, which feature Vietnamese soldiers.  
Hùng and his colleagues, including composers Nguyễn Văn Chung and Hoài An, also sent their songs to the programme popular with thousands of students and migrant workers.
Âm Nhạc Tỏa Sáng will be performed at Bến Thành Theatre, 6 Mạc Đĩnh Chi Street, District 1, and broadcast live every Sunday morning. Performances are free.
Source: VNS
Tags:
Maybe You Also Interesting :
» Project honours Vietnamese musical works from early 20th century
» 'Chicago' to be staged in HCM City
» Vietnamese expat strives to promote home country's traditional music